Explore the World of Fœnum!
Have you Herd the News?
Evacino
•
The Them's Fighting' Herds Wiki now has it's own Server on Discord!
Discord is a free software that provides all-in-one voice and text chat. Discord runs on Windows, macOS, Android, iOS, Linux, and in a web browser.
If you are viewing the Wiki on a comp…
Hi everyone! It's been a few days since EA release and we're working overtime to ensure that people are getting the smoothest experience with the game possible.
We've been lurking and interacting with steam forums, TFH forums and Discord servers to g…
Evacino
•
Them's Fighting' Herds, the fighting game which first began development back in 2011 as a fangame titled Fighting Is Magic, has finally had its public release today!
The original project first resurfaced as Them's Fightin' Herds through its successful …
1.0 Release Trailer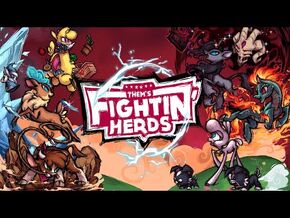 Official Links
The wiki is NOT affiliated with Mane6!
Community content is available under
CC-BY-SA
unless otherwise noted.